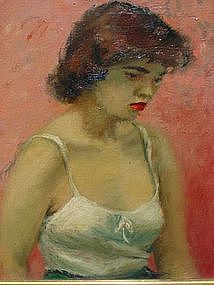 Marianne Brody Gaston, "Portrait of a young woman"
---

Please refer to our stock # 26108 when inquiring.
Sold

Original oil painting on canvas by Marianne Brody Gaston (American, 20th Century, New York) in excellent original untouched condition. This painting measures 20" by 16" (canvas alone) and roughly 24" by 20" in its original gallery frame. It is signed upper left "M. Gaston". Marianne Gaston studied at the ASL with Brackmann, Vytlacil and Raphael Soyer, and also with Moses Soyer and Jack Levine. The influence of the Soyer brothers is in evidence in this painting, both in the subject and treatment (the artist recalls that this painting dates back to her ASL days, and that the sitter was her sister). Marianne Brody Gaston is listed in the usual reference works, including Who Was Who in American Art, Davenport, Artprice. com etc.