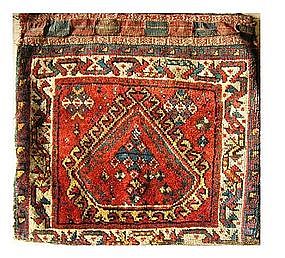 Antique Luri Complete bag, first quarter.
---

Please refer to our stock # 2726 when inquiring.
Sold

Antique Luri saddle bag (single bag), from the first quarter of the 20th century, good colors, in nice overall condition, silky soft wool, complete with striped flat woven back and closure system (loops missing). This bag measures 21" by 22" not including the back. This back features a nice ivory border and a very loose spontaneous design. For the sophisticated collector of Oriental rugs and trappings.