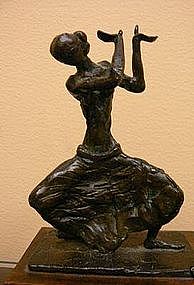 Ruth Lee Leventhal, Bronze Sculpture, "The Dancer"
---

Please refer to our stock # 2767 when inquiring.
Sold

Original bronze sculpture on a wooden base by well-listed Ruth Lee Leventhal (American, 1923-1989) offered in excellent condition. This work measures 7" with its base, 5 1/2" without, and is 4" wide. It is signed "Ruth Lee Leventhal" and dated "75" on the bronze base. This sculpture also bears a brass plaque giving the name of the artist, the title of the work, and the abbreviation FRSA (Leventhal was a fellow of the Royal Society of Artists, London). She is listed in all the usual reference works and databases including Who Was Who in American Art, Artprice.com, Artnet, etc.