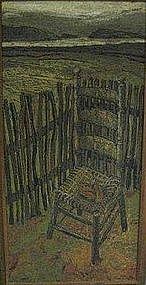 JACK WARREN STANGLE, "ORCHARD FENCE"
---

Please refer to our stock # 2811 when inquiring.
SOLD

Huge original oil painting on canvas mounted on board by Jack Warren Stangle (American, 1927-1980) offered in excellent original condition, and with its original gallery frame. This painting measures 70" by 36" framed. It is signed l.l. Stangl (he often omitted the final "e" from his last name when signing.) This painting is titled "Orchard Fence" on a label which also states the name of the artist (without the "e") and the original price ($500). Jack Stangle was an important figure in the Northwest, and more specifically in Seattle, in the mid-century period. He had a joint exhibit with Richard Gilkey and William Ivey for instance, and a retrospective exhibition at the Seattle Art Museum Pavillion (The Seattle Art Museum has a number of works by this artist in its permanent collection. He is listed in all the usual databases. One of a number of works by Stangle currently in our inventory.
Similar Items from this seller