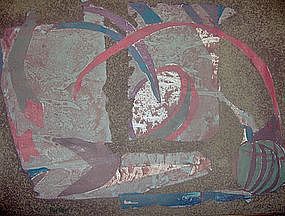 DAVID (EDWIN) PORTER, "WATERED QUARTERMELON"
---

Please refer to our stock # 2836 when inquiring.
Sold, Thank you.

Original oil (and mixed media) painting on canvas by David (Edwin) Porter (American, 1912-2005) offered in excellent original condition. This painting measures 31" by 42" in its original gallery frame (it was exhibited at the Galerie Herve of New York and Paris in April 1955 as #19 of a solo exhibit of Porter's works). This painting is signed l. center, and titled on the back. Circa 1950. David Porter became first known as an art dealer (his gallery opened in 42 in DC displayed the works of Baziotes, Bourgeois, De Kooning, Ernst, Motherwell, Rothko, etc.) His move to New York in 1946 coincides with the beginning of his career as an artist. His paintings have been exhibited at the Whitney, the Corcoran, the AIC, The Jewish Museum, etc. His works are in the collections of the Whitney, the Miami Museum of Modern Art, the Parrish Art Museum, etc.
Similar Items from this seller