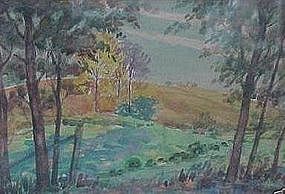 LEON A. MAKIELSKI, "FRENCH LANDSCAPE"
---

Please refer to our stock # 2830 when inquiring.
Sold

Original watercolor of a French landscape by well-listed American impressionist painter Leon A. Makielski (1885-1974), offered in excellent condition and gallery framed. This painting measures 10" by 14" (painting alone). It is signed l.l. "Leon A. Makielski". Leon Makielski studied at the AIC (1903-1909) where he became an instructor. He also studied in Paris at the Academie Julien and at the Grande Chaumiere (he also painted in Giverny). In 1913 he settled in Ann Arbor, Michigan.