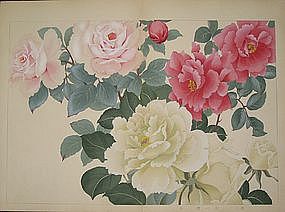 KONAN TANIGAMI, ORIGINAL JAPANESE WOODBLOCK, OVERSIZE.
---

Please refer to our stock # 28177d when inquiring.
Sold

Original oversize Japanese woodblock print by Konan Tanigami (1879-1928). This work is one of a number of oversize (approximately 15" by 20") botanical-floral woodblocks by Konan currently available. It dates from the twenties and is from the series published by Unsodo under the title: A Book of Flower Shapes and Forms. Offered in good condition (the prints from this series were folded in half when published and the fold is slightly visible, although it would basically disappear once the woodblock is framed). We also have a complete five volume set (125 woodblocks) by the same artist currently in stock.