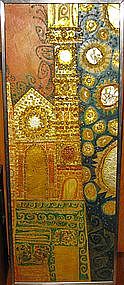 IRENE R. LAGORIO, "CATHEDRAL ON THE CLOSE"
---

Please refer to our stock # 2953 when inquiring.
Sold

Original painting (mixed-media, with collage and mosaic elements) on masonite panel by Irene R. Lagorio (American, 1921-1994, lived in Oakland and Carmel, California). This work is offered in excellent condition. It measures 45 1/4" by 17 1/4" in its original heavy welded steel frame. It is titled on the reverse "Cathedral on the Close", as well as signed by the artist, who included her address in Oakland, CA (5711 Shafter Ave.). Irene Lagorio is listed in all the usual databases. She is known as a sculptor and a painter and a number of her large sculptural works are still displayed in various cities in California. Oregon, etc. (The Smithsonian's Inventory of American Sculpture database lists 21 sculptures by Lagorio owned by institutions and private collections. Her works are also in the collection of the San Francisco Museum of Art, one of the numerous institutions with such holdings. For a detailed description of her artistic resume see "Who Was Who in American Art".