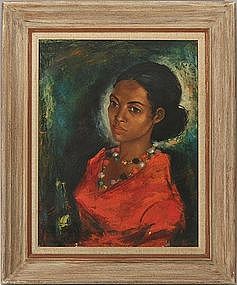 JAN DE RUTH (DERUTH), "WEST INDIAN PRINCESS"
---

Please refer to our stock # 2976 when inquiring.
Sold

Original oil painting by Jan De Ruth (Jan DeRuth), an American painter known for his portraits and nudes (he is the author of "Portrait Painting" and "Painting the Nude".) De Ruth was born in Czechoslovakia in 1922 and came to the US after WWII. This painting is signed with his distinctive signature l.l. in red. It is titled "West Indian Princess" probably by the hand of the artist on the stretcher. It still bears a Christie's Auction label (NYCCK859, lot 302). This circa 1960 oil on canvas measures 18" by 14" (canvas alone) and 24" by 20" in its original frame. Offered in very good original condition. Jan De Ruth is extremely well listed, collected, and exhibited. Provenance: Christie's Rockefeller Center 1985; Private collection in Long Island. One of two paintings by this artist currently available on this website.