Beautiful material and the use of the banding and color within the stone is quite lovely. Carved wood stand included. Measures 4.50" tall x 4.00" wide x aprox. 2.00" thick. Fits comfortably and naturally in left hand. Small repair work done on back side drapery.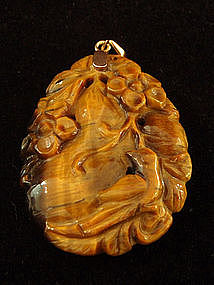 click for details
Tear drop shaped pendant of carved tiger's eye. Bird, flower and gourd motifs. Gold bale is marked 14K but also marked 585. Pendant measures 42.00mm length excluding bale by 31.00mm wide by 9.00mm thick (1.65 inches x 1.22 inches x 0.35inches).
Condition: Excellent.