Late 19th Early 20th Century Yixing Zisha Teapot with enameled decoration. Bird and Flowers on one side and flowers on the other. Bottom and lid are marked. Yu Feng Shun Ji (A shop mark). About 6.75" tall, about 7.00" tip of spout to handle, 6.00 Diameter. Condition: Very old chip in spout otherwise typical for a used teapot of this age. See Enlargements, especially #5.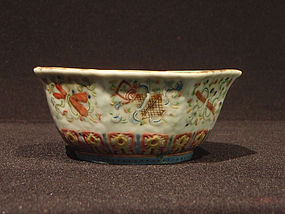 click for details
Late nineteenth century octagonal bowl in famille rose palette with a treasure depicted on each face. Tongzhi Mark. Measures 4.420 diameter, 2.066 tall.
Condition: There is a small chip the rim (see enlargement 4).
Qing Yixing Zisha Teapot with overall enamelled decoration. Three medallions on each side, one depicting a happy boy. Not marked, but with an export seal. 2.545" tall, about 6.5" tip of spout to outer edge of handle, body diameter about 4.165". Condition: Lid has chips outer edge and on knop; pits in enamel at spout tip; typical crude material; one of the strap handles has a glob of excess enamel that has chipped off (to the left of the boy, see Enlargement 1).