click for details
Large Georgian Pierced Brass Fire Fender, having a bowed front, urn and "Prince of Wales" feather design and fine "bright-cut" engraving. English, Circa 1750. Please note that each end has been extended by 4" to fit a larger fireplace.
Length: 60" Depth at Center: 12"
These early brass fenders are typically very heavy and carefully made. They had little functional use but were strictly for adornment.
Antique Dutch Turned Mahogany Peat Bucket having tapering staved sides with molded and ring turnings and with brass liner and carrying handle. Holland, circa 1820 Height to Rim: 12.5" Diameter: 12.5"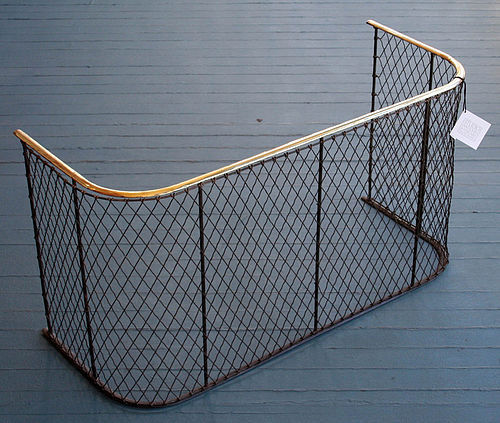 click for details
Antique Brass and Wire Nursery Fireplace Fender having a brass toprail and crosshatched wire body. These taller firefenders were to keep the baby out, rather than to keep the sparks in. American Circa 1800.
34" x14" x 18.25" tall