click for details
*********** FREE SHIPPING – WORLDWIDE ***********
Elegant and Unusual Murano Hand Blown Crystal Clear Art Glass RAM HEAD Sculpture!!! The piece was created for CARTIER, signed underneath, and blown by the Vetreria Archimede Seguso. I have personally seen similar samples with the Seguso labels. There is NO damage (chips, nicks, or impact marks). In EXCELLENT Condition!!!
Measures 6 1/4" tall (15.87 cm) x 5 1/2" wide (13.97 cm) x 4 3/4" long (12.06 cm) .....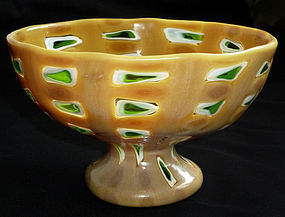 click for details
*********** FREE SHIPPING – WORLDWIDE ***********
Elegant and Intricate Murano Hand Blown Green MOSAIC Window and Caramel Murrines Art Glass Compote Bowl or Dish!!! The piece is labelled "3 FIORI - Fond.ta Vetrai - Made In Murano - Italy", and Signed "Murrina D' Arte - Murano". The company 3 Fiori was one of the best regarded contemporary millefiori paperweight manufacturers. There is NO damage (chips, nicks, or fleabites)...