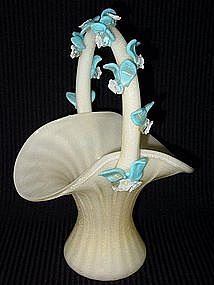 click for details
*********** FREE SHIPPING – WORLDWIDE ***********
RARE Large Murano Cased White Opalescent and GOLD FLECKS Art Glass Flower Basket Vase with Applied Flower Decorations!!! The piece also has an original Camer Glass - New York label underneath, dating it to the 1950's! Believe it is an Alfredo BARBINI piece!!! The basket has a ton of applied white flowers with beautiful blue and gold fleck leafs. The piece ONLY has 1 flower missing, which is really rare since most of these get damaged too ...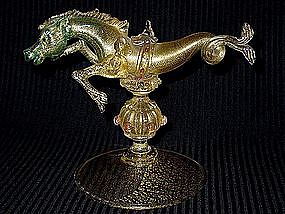 click for details
*********** FREE SHIPPING – WORLDWIDE ***********
OLD 1890's Venetian SALVIATI SEA HORSE Art Glass Compote Base!!! The piece is the bottom half of a compote, but its extremely rare to find one anywhere! The last one I saw sold for over $5,000!!! Even though the piece I have is the bottom part, I think it is an amazing example to have for any collector. The Seahorse has GOLD FLECKS throughout, with an applied harness with little pink dots. The Fins and tail are without damage. It is mis...