Standing slender lady, dressed in long-sleeved garment, her hair kept in a wide roll in the neck. She holds her hands in her sleeves. Earthenware with red, dark gray and white pigments. Several old cracks and restored breaks, surface somewhat weathered, still elegant piece. Height 17 7/8 inches (46.8 cm). China, Han dynasty.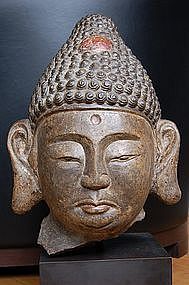 click for details
Large stone head of a Buddha. Serene face with the eyes cast down, a small flat nose and a small, slightly pointed mouth. The ears with thick earlobes stand off the head. The hair is done in a conical shape. The plump, flat face with the small mouth and nose are typical for the Liao period (907 - 1125). On the ears and in the face traces of gilt lacquer. Also traces of a yellowish lacquer that may have served as a basis to apply the gold to. On the lips and on the ushnisha rests of red lacquer. Excellent condition. This must once have been a splendid piece. Mounted on base.
Height 14 inches, without the base.
Excellent condition.
Provenance:
Collection Ezekiel Schloss
Collection Richard Ravenal, NY
Carole Davenport, NY