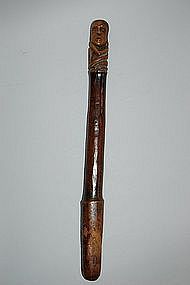 click for details
Staff carved out of one piece of a hard species of wood. On the top crouches a female figure with long hair, the arms wrapped around her body. The tip is a lighter middle brown while the rest is patinated a dark brown. Probably used in Shamanistic rites in tribal regions. Himalayans.
Length 16.5 inches (42.5 cm).
Some cracks and chips, nice patina.

click for details
Two magnificent and rare end-pieces in the shape of lion-like animal heads. The pieces were held by pegs to the end of the beams in a construction. The heads show fangs and mane and curled horns. In their mouths they hold a rope or cord connected to an object that is no longer there, as if they are pulling or holding up something that was on the beam or on the building. Single piece of wood, decorated with the typical colors of red, white and green and some ochre decorations on the horns. Tibet, 18th century or earlier.
A: Approx. height 16 in.; width 15 in.; depth 15 in.
B: Approx. height 14 in.; width 16 in.; depth 14 in.
Normal wear and tear (paint chips, cracks), very good and stable condition. Repainted several times.