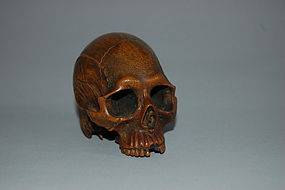 click for details
Okimono in the form of a highly detailed human skull. Boxwood, partly stained black. Unsigned. Japan, Meiji period, 19th century.
Height: 1 7/8 inch; width: 2 ¾ inches (ca. 4.7 x 7 cm).
Excellent condition, beautiful patina.
Glass ball on a wooden stand of finely carved and undercut work. The base has been carved in the shape of high foaming waves in which fishes are swimming, and that carry the jewel of the tides. The waves inlaid with little pieces of mother-of-pearl and gold lacquer. Ryujin, the Dragon King, held this jewel to rule the tides. Overall height 7 ¼ inches. Japan, Meiji period. Ball in near-perfect condition (one tiny, shallow scratch), the stand with some repairs and some missing tips on the waves.