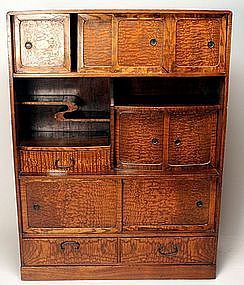 click for details
Beautiful and elegant chest for keeping tea utensils. From top to bottom: shelf behind four sliding doors, one curved, wave shaped display shelf and one straight shelf, one curved drawer, two shelf behind two sliding doors each. Doors and drawer fronts made of beautiful mulberry veneer. On the insides and backs of doors and drawers there are left and right marks and numbers in black ink, to indicate the right place for each door. The sides of a wood with coarser grain. Japan, Taisho period.
Height 38 in., width 48 ¼ in., depth 11 ¼ inches.
Some damage (dent, scratches) at sides, due to moving/transport, minor wear shelf edges, one crack in the veneer of one of the doors (stabilized by the back-wood). Overall very good condition and splendid piece.