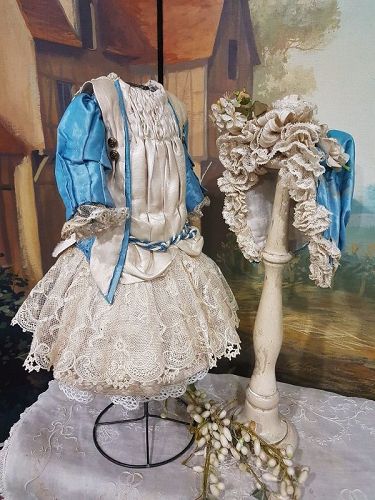 Lovely French Bebe silk Costume with Bonnet
---

Please refer to our stock # 1163 when inquiring.
Out of Stock ...
Most beautiful blue and ecru French Bebe one of a kind costume of silk fine ornate with french lace, lovely accessorys and trim.
One piece silk outfit looks like a jacket dress with hand ruffled and pleated ecru silk front . Both sides , the sleeves and the dress back from pretty blue silk with longer train over the skirt.
It will fit for a around 14" / 15" ( 36-38 cm )
The dress has small inset long sleeves with pleated details and lace decoration around wrist. Sides with ecru silk collar runs to the back . The back has longer parts with small " Que de Paris" witch fall over the skirt .
Pretty ecru silk skirt with hand made lace decoration and as finally touch a lovely silk cord decoration at front and large ecru silk bow back.
The dress is complete inside fine lined with soft cotton and a cotton slip.
Front closure at side with hooks and eyes...
To the dress belongs a matching blue color silk bonnet ornate with ruffled rows of lace around the sides and brim. Ornate with silk flowerts bouquet and inside hold a small rack of wire the bonnet always in perfect form .Lined with ecru muslin...
Wonderful one of a kind outfit for your favorite French or German doll , has excellent silk condition from around 1880th...perfect for your Bru , Jumeau , Gaultier , Steiner or other....
Long at front from shoulder to hem ...... 11" ( 28 cm ) Shoulder to shoulder ..... circa 4 " ( 10 cm ) Waist around ..... circa 10" ( 26 cm )
Many thanks for your interest and please let me know if you have a question.....