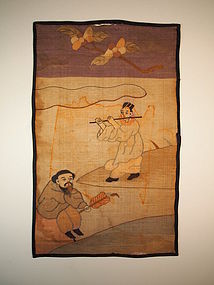 click for details
Ca. early 1700s
This panel displays a scene of two people in a landscape setting, one holding a flute and the other holding a fan. It was later bordered with a black silk band which has slightly separated from the panel in two areas at the top and bottom, as seen in the photographs. There are also some old stains that have little effect on the image.
Height: 13 ½ in., Width: 8 ½ in.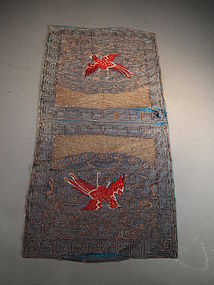 click for details
1800s
This civil official's rank badge is embroidered on silk with silk and metallic wrapped silk threads, and has a medium blue woven silk backing. There is splitting to the silk background and loose metallic threads, as well as some losses to the silk backing.
Length: 17 1/2 in., Width: 9 in.